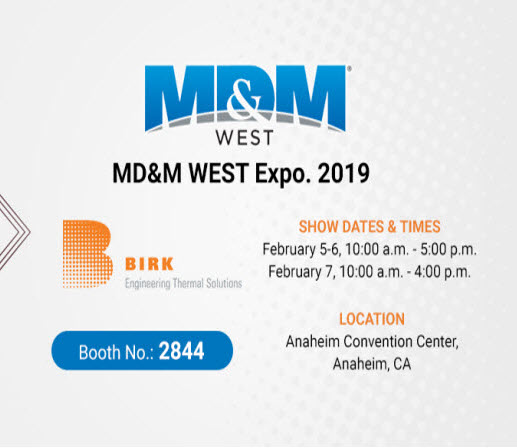 Birk Manufacturing Set to Exhibit at the MD&M Expo 2019
ANAHEIM, CALIF. (PRWEB) FEBRUARY 06, 2019
Birk Manufacturing, a renowned manufacturer and designer of high-quality thermal systems and flexible heaters, is set to exhibit its products and innovations at the Medical Design and Manufacturing (MD&M) Expo. The event is scheduled to be held from February 5 to 7, 2019 at the Anaheim Convention Center, 800 W. Katella Avenue, Anaheim, CA 92802. Birk Manufacturing will exhibit at booth number #2844.
After a wonderful response at the 2017 and 2018 expos, Birk looks forward to exhibiting at the expo to showcase their high-quality flexible heaters, including Kapton® heating solutions, silicone rubber heating systems, and RAPT°R-heated tube lines. Birk will also cabinet their temperature sensors and full turn-key systems for customers seeking plug-and-play capabilities. Due to their high quality and tight tolerances, Birk's custom heaters, temperature sensors and thermal systems are extremely sought after in the medical industry, specifically for applications where temperature control is critical, such as in preserving samples, DNA research, patient care, and so on.
The MD&M Expo is one of the largest events held in North America and a beneficial platform for all MedTech professionals. The expo also has conferences scheduled on all three days. This expo, as well as the conferences, helps businesses expand their networks and provides insights on the current market trends and innovations in the biomedical sector. It also introduces the participants and other attendees to technology-based application areas in the medical sector. This year, about 1,900+ suppliers are set to exhibit their latest solutions in various areas, such as R&D, automation, medical device components, materials, plastics and more.
About Birk Manufacturing:

As a known and reliable player in thermal solutions and heating systems for several sectors, including the medical industry, Birk is serious about quality and has ISO 9001 and ISO 13485 certifications for medical devices. The company is a privately held S-Corp based in East Lyme, Connecticut. Birk offers quick turnaround times and has several existing and new in-house design and manufacturing capabilities. For more information, please visit Birk's booth (2844)