Mica heaters are a popular type of thin heater used for domestic and industrial heating. They have especially found great applications in commercial industrial heating operations. However, if high-quality mica isn't used, then the heater may be prone to electrical leakage and temperature drops or rises. That is why it is essential to purchase custom mica heaters from trusted manufacturers. Birk Manufacturing is one of the most prominent manufacturers of custom mica heaters. This post discusses the specialties of mica heating elements by Birk Manufacturing and why you should choose them.
Before getting into Birk Manufacturing's mica heaters, let us introduce you to mica heaters.
Mica Heaters
Mica heaters are composed of a thin resistive etched foil element and thin sheets of mica as their insulator. Unlike most other styles of thin film heaters, mica heaters are typically designed to be clamped to and left on the application surfaces. This is due to the sacrificial binder used to hold the unit together. In most applications in which mica heaters are used, the temperature is beyond the limit of typical binders. Thus, the heater must be clamped in place in order to remain operational.
As said earlier, Birk Manufacturing is one of the most prominent manufacturers of mica heating elements. Let us discuss why.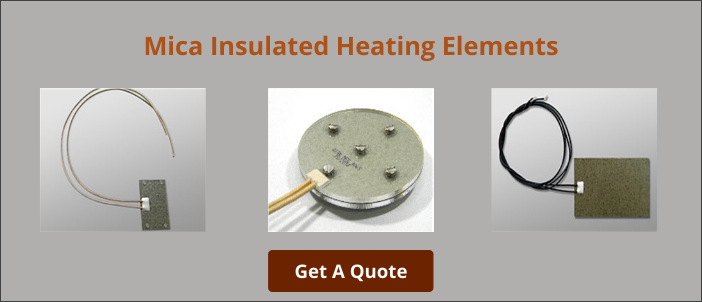 Specialties of Custom Mica Heaters Offered by Birk Manufacturing
The following are the specialties of mica heating elements by Birk Manufacturing that make these heaters stand out:
Birk Manufacturing designs and manufactures custom mica heaters based on the customer's application requirements.
Their mica heaters are designed for quick temperature recovery and higher than normal watt densities.
They utilize special quality mica sheets that contains phlogopite. These phlogopite-infused mica sheets are capable of withstanding temperatures up to 600°C.
Mica heaters can be designed and manufactured to fit intricate geometries for specific requirements.
Birk Manufacturing provides a detailed Mica Insulated Heating Element and System information manual and an installation guide for the customer's benefit.
The company has achieved quality standards compliance with the following industrial standards/certifications:
ISO9001
ISO13485
AS9100
ITAR-Regulated
UL & CSA
Now, let us discuss the features/specifications of Birk Manufacturing's custom mica heaters.
Features/Specifications of Custom Mica Heaters by Birk Manufacturing
The following features/specifications of the mica heaters by Birk Manufacturing make these heaters suitable and popular in industries such as chemical detection, commercial and industrial, semiconductors, packaging, etc.
Temperature Sustainability: 600°C
Watt Density: Over 150 watt/in2
Size and Shapes: Up to 24ʺ × 24ʺ
Rapid temperature recovery
Birk Manufacturing specializes in custom engineered solutions. So if you are looking to source custom mica heaters, Birk is the perfect fit for you. They offer prototypes for customization of heating solutions in just a few days. The implementation of lean processes and superior expertise makes this possible every time.