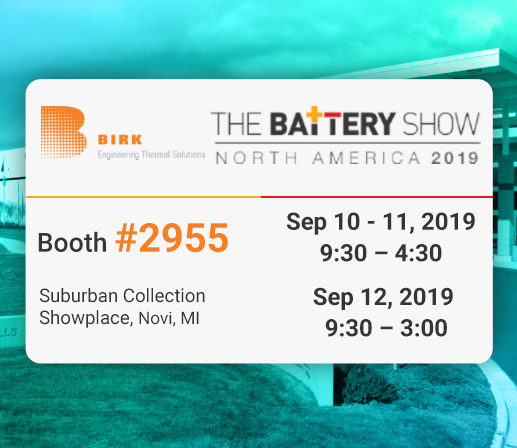 Birk Manufacturing to Exhibit Thermal Solutions at The Battery Show 2019 in Novi, MI
NOVI, Mich. (PRWEB) September 07, 2019
Birk Manufacturing has announced its participation at The Battery Show which is to be held from September 10–12, 2019, at the Suburban Collection Showplace, Novi, MI, USA. Birk's expert team will be available at Booth #2955 to discuss its thermal management applications and their role in various battery applications.
Thermal management is one of the most important aspects of any battery system . Temperature regulation is crucial for ongoing reliable battery performance. This is achieved by the use of resistive heating elements. Birk Manufacturing specializes in the design and development of resistive heating elements, which are provided in customized designs to meet even the most complex application requirements. Birk Manufacturing's custom heaters ensure even heat distribution, low outgassing, and excellent heat transfer, which help improve battery performance and extend the battery's lifespan. These heating elements are custom engineered to fit battery cells and meet their thermal and voltage requirements. The lightweight and durable flexible heating elements can be integrated with temperature sensors and thermal cut-offs for efficient operation even in sub-zero climates. The heating elements are provided in Kapton®, silicone rubber, and butyl rubber materials. Birk Mfg. also provides custom turnkey systems where self-regulated designs allow for passive controls. An ideal feature for any battery system with a challenging placement.
"Birk Manufacturing has been providing custom heating elements for EV, consumer devices, and heavy equipment battery systems for a long time. With a vast manufacturing and design experience to our credit, we consider this trade show as an opportunity to connect with people who are passionate about the newest battery technologies or might be looking for efficient thermal solutions for their battery applications," said Rebecca Mattox, Marketing Manager for Birk Manufacturing. The company also provides value-driven application engineering services to support Design for Manufacturability (DFM). This allows manufacturers to reduce their lead times and vendor base and increase speed to market. The company assures the fastest turnaround times on prototypes.
The Battery Show is one of the largest and most popular manufacturing trade shows for advanced battery technologies held in North America. This trade show focuses on battery technologies for the automotive, portable electronics, medical technology, military, and telecommunications markets. This year, the tradeshow is being combined with the Electric & Hybrid Vehicle Technology Expo and is expected to attract 650+ suppliers and 8,500+ attendees. In addition to the product showcase and discussions, there will be networking activities, career guidance sessions, and in-depth analysis of the newest battery designs. You can visit Birk Manufacturing at Booth #2955 to see, understand, and discuss the possibilities of using custom resistive heating elements in your battery applications
About Birk Manufacturing
Birk Manufacturing specializes in designing and manufacturing high-quality thermal systems and flexible heating elements that are widely used in the medical, semiconductor, defense, and aerospace industries, among others. All manufacturing and design of custom turnkey assemblies, flexible heating solutions, temperature sensors, wire harnesses, RAPT°R-heated tubes, and standard heaters are conducted at Birk's well-equipped 36,000-SQFT manufacturing facility. The company is committed to delivering high-quality thermal solutions and application engineering services. The various certifications earned by the company, such as ISO 9001, ISO 13485, and AS 9100, show its no-compromise attitude towards quality. For more information, please visit the website at https://www.birkmfg.com/ or call us at 800-531-2070.
Media Contact:
Rebecca Mattox | Sales and Marketing Manager
Birk Manufacturing Inc.
Toll Free: (800) 531-2070
sales@birkmfg.com