Batteries have been an integral part of our way of life at both the consumer and industry level. They have been used to power various devices and machines over the last few centuries. However, much has changed regarding the technology and functionality of batteries. Demand has increased significantly due to the overwhelming number of new applications in the marketplace. These new applications require battery packs and/or enclosures to be more lightweight than ever before, have quicker response times, and endure the toughest conditions. Batteries are now used in medical devices, heating systems, electronic devices, automobiles, and military systems. The Battery Show is organized every year to showcase and discuss the innovation and research in this market segment. This is why Birk Manufacturing is excited to participate and showcase the thermal management solutions available to their existing and potential customers. Thermal management is an important aspect of battery design. Temperature regulation is crucial for ensuring ongoing battery performance and extending the battery's lifespan. Birk Manufacturing's core competencies in engineering, design, and manufacturing allow them to specialize in creating high-quality thermal systems that are tailored to the application needs brought forth in the battery industry. The company is well-known as a reliable manufacturer and designer of high-quality temperature sensors, RAPT°R-heated tubes, and full plug-and-play systems. The Birk team looks forward to proudly showcasing their products at Booth #2955.
How Would Visitors Benefit From the Event? What Can They Expect at Booth #2955?
Aside from this, the event helps you build your professional network and find new business prospects in this field.
Birk specializes in making thermal systems for battery packs and enclosures. They provide heating elements using such materials as Kapton®, silicone rubber, and butyl rubber which are used as standalone devices or can be vulcanized to a plate. These battery heating solutions can be self-regulating and cost effective, and they are UL 499 listed. They facilitate uniform distribution of heat. The battery heaters made by Birk can feature integrated thermal switches as well as cut-offs and are used to keep batteries at optimal operating temperatures in cold climates. These heating elements can be designed to fit customized shapes and sizes to meet any battery application. You would benefit by visiting their booth, as aside from this, they have a host of other thermal products you would understand at length.
The company is set to participate in three major categories:
Mica-insulated heating elements and systems
RAPT°R-heated tube lines
Wire harnesses
The Birk team is also looking forward to helping attendees mitigate their thermal management issues by offering innovative products and advanced machining capabilities. Birk Manufacturing also specializes in engineering. Every year, it designs various etched foil circuits and wires for thermal management devices.
About The Battery Show 2019
This annual event serves as a great platform for engineers, researchers, innovators, and thought leaders across North America to come together and share their knowledge and experiences in the battery segment and think of new battery applications. This year, you can expect around 8,500 attendees, over 150 speakers, and 650+ suppliers to engage in extremely thoughtful discussions on various topics related to batteries and their applications. Some of the topics include advanced battery design, compliance requirements for battery manufacturers and users, and thermal management. There are a number of presentations and interactive events. At this annual event, North America witnesses the largest and the most comprehensive battery manufacturing trade show.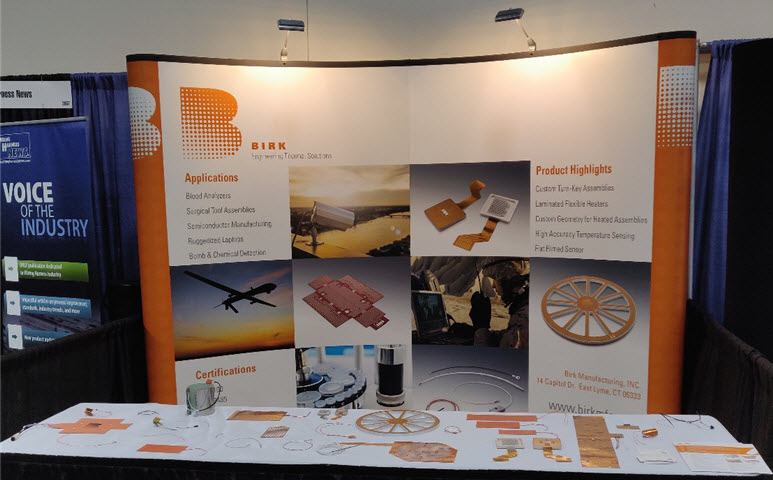 Event Schedule
Here is the schedule of The Battery Show 2019:
Date and Time:
Tuesday, September 10: 9:30 a.m.–4:30 p.m.
Wednesday, September 11: 9:30 a.m.–4:30 p.m.
Thursday, September 12: 9:30 a.m.–3:00 p.m.
Venue:
Suburban Collection Showplace
46100 Grand River Avenue, Novi, MI 48374
Visit the Birk team at Booth #2955 as they showcase their innovative heating products, temperature sensors, and other solutions used across industries.