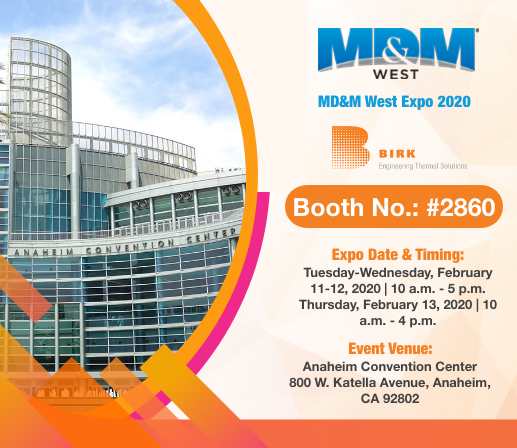 Birk Manufacturing Set to Make Its Presence Felt at MD&M West 2020
ANAHEIM, CALIF. (PRWEB) FEBRUARY 05, 2020
Birk Manufacturing, which specializes in the design and manufacture of thermal systems for the medical industry, has announced its participation at the MD&M West Expo 2020. This is North America's biggest medical device technology trade show, which will be held at Anaheim Convention Center, Anaheim, CA, from February 11 to 13, 2020. Birk Manufacturing will be exhibiting at booth #2860.
Birk Manufacturing will be exhibiting its existing product lines and showcasing new product advancements while members of the engineering team share their knowledge with clients and prospects at its booth. The company provides custom heaters for medical devices and allied applications. These heaters are made from Kapton® polyimide film and are widely used in blood analyzers, hemostasis management, surgical tool assemblies, and so on. Birk Manufacturing possesses vast engineering expertise and helps users throughout the stages of manufacturing. This has helped customers reduce lead times, overall costs, and vendors.
"We are happy to be part of this prestigious event that is entering its 35th year. As every year, this year the event is expected to draw more than 20,000 attendees and 2,000 visitors. This attendance provides us an opportunity to present our best products and engineering capabilities before the right audience," stated Birk Manufacturing's CEO, Michael Mattox. "We have been attending this expo for several years now. Our eagerness to learn and respond to the changing market trends, increasing interest in technology, and overwhelming response to our products has been a major drive for us. It is a well-known fact that the expo attracts engineers, OEMs, and other industry personnel. We are looking forward not only to meeting them, but also to helping them with their thermal issues."
MD&M West 2020 is one of the most popular and largest medical design and manufacturing events of its type in the world. The event attracts seasoned executives, engineers specializing in different areas of medical device manufacturing, R&D engineers, quality and process engineers, C-suite executives, and so on. This year, the event will have two new features – the MD&M West Innovation Lab and the Medtech Wall. The Innovation Lab promises to offer insights on some engaging cutting-edge technologies. The Medtech Wall will take attendees down memory lane, showcasing 40 years of MedTech innovations. MD&M West also attracts suppliers and experts from other related industries, such as aerospace, semiconductors, and defense. The event provides opportunities to expand beyond our industries and find solutions to challenging problems.

To schedule a meeting in advance, contact sales@birkmfg.com
About Birk Manufacturing
Based in East Lyme, Connecticut, Birk Manufacturing has been designing and manufacturing thermal solutions for its medical industry clients since 1989. The company combines its vast experience and engineering expertise to create and deliver quality-driven thermal solutions for market-leading medical devices. All design, manufacturing, and testing are conducted at its well-equipped 36,000-sq.ft. the facility at East Lyme. As a leading manufacturer of thermal solutions for the medical industry among others, the company is dedicated to maintaining the highest standards of quality. Certifications such as ISO 9001, ISO 13485, AS9100, ITAR UL, and CSA are an attestation of its quality. For more information, please visit Birk Manufacturing, Inc.
Media Contact:
SCOTT PHELPS | SALES MANAGER
Birk Manufacturing Inc.
Toll Free: (800) 531-2070
sales@birkmfg.com