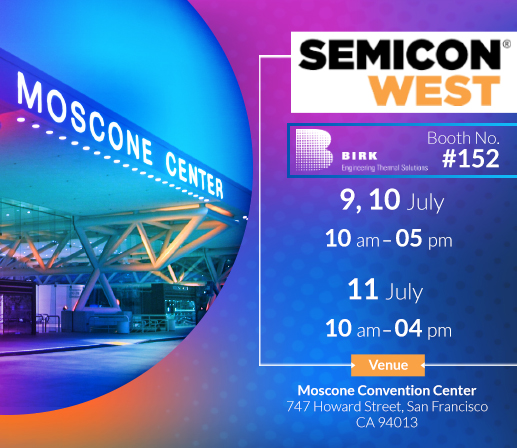 Birk Manufacturing to Exhibit at BIOMEDevice Boston 2019
SAN FRANCISCO (PRWEB) JULY 10, 2019
Birk Manufacturing has announced that the company will be exhibiting its innovative custom flexible heaters and heating elements at SEMICON WEST 2019, the largest exhibition for the global microelectronics industry in North America. The event will be held at Moscone Convention Center, San Francisco, California, from July 9 to 11, 2019. Birk Manufacturing will be showcasing at booth #152.
At the booth, Birk Manufacturing will be showcasing its best-selling products, including Kapton® (polyimide), silicone rubber, mica-insulated, and butyl rubber heating elements. These heating elements are largely used in semiconductor equipment, instrumentation, medical devices, and several types of critical diagnostic equipment. The company offers these products in custom designs and specifications to meet diverse industry requirements. Attendees who stop at the company's booth can also see its other product offerings, comprising several thermal solutions, including surface mount sensors, temperature probes, and several bare elements such as thermocouple sensors and RTDs.
The semiconductor industry uses several well-designed thermal systems and heater elements for various applications and processes. Birk Manufacturing has developed customized thermal systems that ensure low outgassing, even heat distribution, and excellent heat transfer to the heat sink as well as feature flexible circuits and integrated sensors. These heating solutions are widely used in applications such as the burn-in testing of integrated circuits and managing process temperature during the manufacturing of wafers for semiconductor applications.
Birk Manufacturing is one of the leading manufacturers of Kapton® (polyimide) heaters in the world. These heaters are thinner than most other industrial heating elements available in the market and are considered perfect solutions for compact/2D applications. These heaters can be integrated with temperature sensors to ensure thermal stability and uniform heat distribution in an application. In addition to these products, Birk Manufacturing also provides application engineering services that are certified to the ISO: 9001, ISO: 13485 and AS: 9100 standards.
"Birk Manufacturing is proud to be part of one of the largest semiconductor events in the world – SEMICON West 2019 . We have been serving the semiconductor industry for years, and our flexible heating solutions have been part of several critical semiconductor applications. We believe this event will bring us several opportunities to interact with manufacturers, technicians, and engineers who might be looking for the highest-quality thermal solutions for their semiconductor applications," said Michael Mattox, Birk's Chief Executive Office.
SEMICON West is a premier event that addresses the trends, requirements, and market needs of semiconductor devices. The event will comprise 80+ hours of business and technical programming, as well as several innovative exhibitions, where exhibitors will provide insights on innovations in the semiconductor industry. Attendees will get a glimpse into smart solutions such as flexible hybrid electronics, sensors, MEMS, and so on. Every year, the event attracts technology and business leaders, industry analysts, researchers, and business managers of microelectronics industries. At the event, you will see Birk Manufacturing exhibiting at the SEMICON West 2019 show at booth #152 at Moscone Center South Hall.
About Birk Manufacturing
Founded in 1989, Birk Manufacturing is a market leader of innovative thermal heating solutions. The company is located in East Lyme, CT, and operates from its 36,000 sq. ft. manufacturing facility, where it designs flexible heating solutions, temperature sensors, custom turnkey assemblies, wire harnesses, standard heaters, and RAPT°R-heated tubes. The company regularly designs and manufactures customized thermal solutions for its clients across various industries. Its commitment to quality throughout the design and manufacturing phases can be easily verified by the various certifications that it owns. Birk is an ISO 13485/9001-, AS9100-, and ITAR-accredited company. For more information, please visit the official website at https://www.birkmfg.com/.
Media Contact:
Rebecca Mattox | Sales and Marketing Manager
Birk Manufacturing Inc.
Toll Free: (800) 531-2070
sales@birkmfg.com