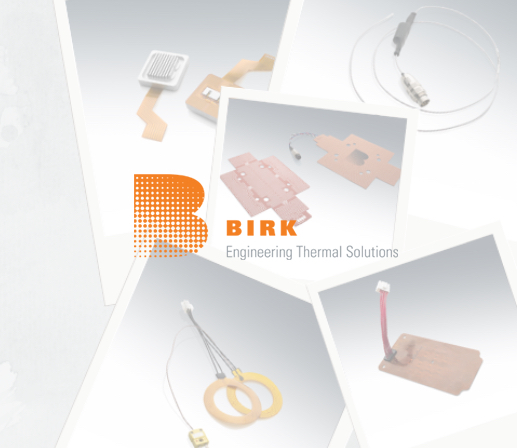 The New Online Face of Birk Manufacturing Inc.
Birk Manufacturing Inc. is pleased to announce the launch of their new website. The website, which was launched on August 28th, 2014, is an endeavor to provide current and prospective customers of Birk the opportunity to have the latest information regarding the company's products and services.
Birk's website is fully equipped with engineers, research developers and purchasing agents in mind. Anyone can get inspiration from proven case studies; utilize technical data to better understand our products and what industries they are typically used in. Birk Manufacturing, Inc. now provides an Ohms calculator as an engineering resource for anyone who needs to calculate ohms, voltage, wattage and/or amps.
Product configurators for Birk's standard heaters, RAPT°R heated tubes and sensor products are also readily available. These configurators make ordering and developing part numbers a hassle free process. Customize solution RFQs with the capability to upload a drawing are also available for customers needing a tailored thermal solution.
Temperature Sensors
The continual growth and expansion of numerous industries such as medicine, defense, aerospace, and semiconductor has given the rise to the specific need of temperature sensors. Birk foresaw this need and has developed a temperature sensor line. We provide a variety of well-designed, high quality sensors including:
Resistance Temperature Detectors (RTDs)Surface Mount SensorsBolt-on SensorsTemperature ProbesCustomized Sensor Solutions
Each of these products provides a wide range solution depending on the application requirements. Birk's RTDs provide excellent long-term stability and are less susceptible to EMF resistance, vibration and temperature shock. Our surface mount sensors are manufactured using Kapton® and Silicone to provide superior protection and durability. The temperature probes are designed with casings made from stainless steel for additional protection of your RTD or Thermocouple. Birk is also offering Bolt-on temperature sensors, ideal for process control testing and verification of existing systems.
Industry Based Solutions
Birk Manufacturing is recognized for its customized thermal solutions for various industrial applications. Two industries that have been supported by Birk for decades are the commercial/industrial and aerospace industries.
Commercial/Industrial : Our thermal products are the best solutions for commercial products such as electronic enclosures, packaging lines, and battery charging processes.
Aerospace : Thermal heaters provided by Birk are essential for heating applications in the aerospace industry. Some of the most common applications are battery heaters, fluid delivery and control systems, and warming actuators and valves.
Birk specializes in "engineered solutions". We are dedicated to providing products and services of the highest quality. Our design team thrives on developing innovative approaches to complex applications. We continue to implement Lean Processes which allows us to deliver most prototypes in days not weeks.
Birk Manufacturing, Inc. is an ISO 9001: 2008, ISO 13485:2016 and AS 9100: 2009 certified company
.