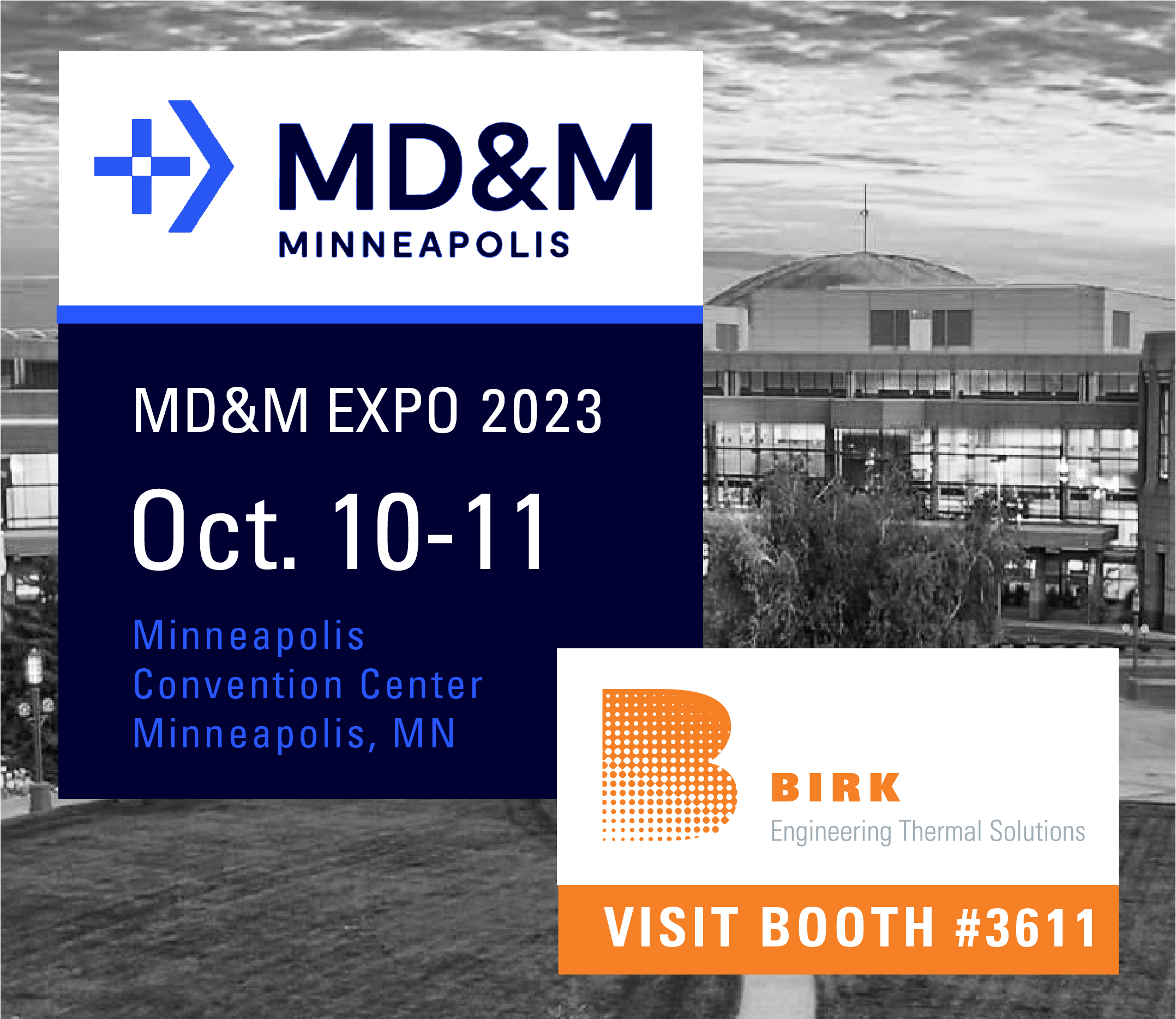 Birk Manufacturing to Present High-Quality Flexible Heaters at MD&M Minneapolis Trade Show
MINNEAPOLIS MN, OCT.  10-11, 2023
Birk Manufacturing, a leading provider of high-quality flexible heaters, announced that it will be showcasing its innovative thermal solutions at the upcoming Medical Design & Manufacturing (MD&M) Minneapolis trade show. The event will be held on October 10-11, 2023, at the Minneapolis Convention Center in Minneapolis, Minnesota.
The MD&M Minneapolis trade show is the premier event for medical device manufacturers, engineers, and designers looking for the latest innovations and technologies to improve patient outcomes. Birk Manufacturing is excited to participate in the event, where it will showcase its flexible heaters, which are designed to meet the unique needs of the medical industry.
"Our team is thrilled to be exhibiting at the MD&M Minneapolis trade show this year," said Birk Manufacturing President, Carleton Birk. "We're excited to showcase our innovative flexible heaters that are designed to meet the demanding requirements of medical device manufacturers. Our products are designed to provide exceptional thermal performance, reliability, and durability, and we look forward to sharing them with attendees."
At the event, Birk Manufacturing will showcase a range of its flexible heaters, including custom-designed solutions that can be tailored to meet the specific needs of medical device manufacturers. The company's heaters are ideal for a variety of medical applications, including blood analyzers, replicating body temperature for body fluid testing, and small catheter insertion heaters.
"We have a team of highly experienced engineers who work closely with our customers to develop custom solutions that meet their unique needs," said Carleton Birk. "We understand how valuable the Engineer to Engineer communication is when it comes to highly critical applications and our engineering team is available throughout the entire product lifecycle from concept through manufacturing and post support. We pride ourselves with having a human element to our business model and value our relationships with our customers."
Birk is pleased to have an engineer from their team onsite to assist you with all your inquiries. Their engineer will be available to answer any preliminary questions you may have about our products, capabilities, past project experiences, feasibility, manufacturability, limitations, alternative options, as well as provide ballpark costs and lead times. With their extensive expertise and knowledge, Birk Manufacturing's engineer will be an invaluable resource, guiding you through their offerings and helping you find tailored solutions to meet your specific needs.
Birk Manufacturing's commitment to high-quality products is further evidenced by their adherence to ISO 13485, a quality management standard specifically designed for medical device manufacturers. This standard increases a company's prerequisites for tighter tolerance and traceability in processes and products, ensuring that Birk's medical device customers receive high-quality products that meet the requirements outlined by each medical application.
MD&M Minneapolis attendees are invited to visit Birk Manufacturing's booth, #3611, to learn more about its innovative flexible heaters and discuss how the company can help meet their specific heating needs.
For more information about Birk Manufacturing and its flexible heaters, please visit www.birkmfg.com
To schedule a meeting in advance, contact sales@birkmfg.com