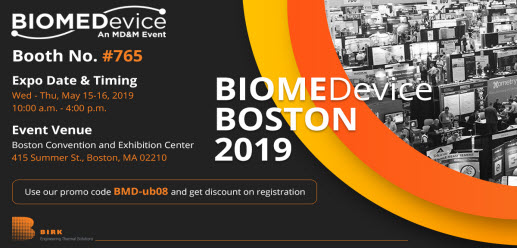 Birk Manufacturing to Exhibit at BIOMEDevice Boston 2019
BOSTON (PRWEB) May 14, 2019
Birk Manufacturing, an experienced manufacturer of thermal heating solutions for the medtech industry, will be exhibiting at BIOMEDevice 2019 to showcase its products and discuss engineering expertise.
Birk Manufacturing, one of the leading designers and manufacturers of innovative flexible heaters and thermal systems for use in instrumentation, medical devices, and diagnostic devices, headquartered in East Lyme, Connecticut, will be exhibiting at BIOMEDevice Boston 2019 on May 15–16, 2019. The venue for the event is the Boston Convention & Exhibition Center in Boston, MA. Birk Manufacturing, through an interesting product showcase, plans to address various thermal engineering challenges faced by the medtech industry.
Norman Birk continues, "As an experienced manufacturer with an ISO13485 certification, we understand the stringent requirements and processes required to build products for medtech industries. Our vast industry experience, adherence to quality protocols, as well as integrated document systems have tremendously helped us develop performance-driven products." Birk Manufacturing combines its technical capabilities and extensive industry knowledge with lean manufacturing methods to produce quality products.
BIOMEDevice Boston is one of the largest events showcasing the latest innovations in medtech and embedded systems. This event attracts more than 450 leading suppliers and 4,500 engineers from across New England's medtech industry. BIOMEDevice Boston is organized in partnership with the Massachusetts Medical Industry Council (MassMEDIC), and it allows attendees to explore the full spectrum of innovative solutions to build their medical devices. They also get the opportunity to attend free product demonstrations, presentations, and expert panel discussions, which offer insights into developments in the medtech industry.
To learn more about Birk Manufacturing's products and engineering capabilities, visit Birk Manufacturing at BIOMEDevice, booth #765.
About Birk Manufacturing:
Birk Manufacturing is an industry leader for thermal management and custom turnkey solutions. Located in East Lyme, CT, the company provides design, engineering, and manufacturing services for all its products. Birk Manufacturing employs high-quality standards as well as stringent product tolerances when making products for use in the medical industry. The main product offerings of the company are silicone rubber and Kapton® heating assemblies for use in blood analyzers, hemostasis management, small catheters, insertion heater assemblies, surgical tool assemblies, and more. Birk Manufacturing possesses ISO 9001: 2015, UL, AS9100C, CSA, ITAR, and ISO 13485:2003 certifications. To find out more about Birk Manufacturing's product offerings, please visit https://www.birkmfg.com/.
Media Contact:
Rebecca Mattox | Sales and Marketing Manager
Birk Manufacturing Inc.
Toll Free: (800) 531-2070
sales@birkmfg.com