After the successful showcase at the Med Tech World MD&M West Expo 2016 in February, Birk Manufacturing. Inc., the leader in engineering thermal solutions, is making its presence felt once again at a prestigious trade show.
The organization will be exhibiting at the renowned Design-2-Part Trade Show this month. The trade show will be taking place on October 26th and 27th, 2016, at Long Beach Convention Center, 300 East Ocean Boulevard, Long Beach, CA.
The Birk Mfg. team will be setting up their booth at 306 & 308, and providing information about the organization's products, services, and new offerings.
What Birk has Planned for the Trade Show?

Birk Mfg. has received immense success since its inception, due to its passion for excellence, and providing customers with unique thermal solutions. Now, the team will also be using the trade show as the platform to provide a preview of their upcoming, in-house control box product line. They will discuss the features and benefits of the product and are welcoming feedback of guests and customers to ensure optimal design.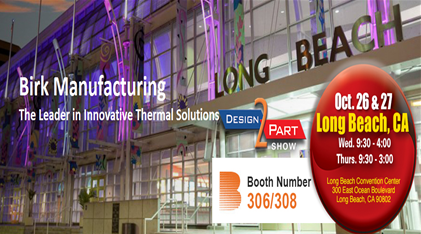 Not only will Birk be previewing their new product line but also giving customers the opportunity to have an up close and personal look at Birk's products and services. The trade show is an amazing opportunity for the Birk Mfg. team to meet this need of existing and potential customers. Birk representatives will be present to answer any queries that guests and prospective customers may have.
About the Design-2-Part Trade Show
The Design-2-Part Trade Show is the largest industrial expo in California. It is an event dedicated towards engineers and engineering companies. It helps bring together the country's finest OEMs, contract manufacturers, and engineering service providers.
The event has over 150 organizations spanning across 300 service and manufacturing categories participating. These include plastics, metal, rubber, and electronics industries. The trade show focuses on the engineering needs of organizations, and caters to the Medical Aerospace, Defense and Semiconductor industries.
You can find out more about the event by clicking on the news item on our website https://www.birkmfg.com.
Are you interested in attending the show, and meeting the Birk Mfg. team? Be our guest at the trade show. Check the VIP invitation on our website, and register for the event for free. We hope to see you there.