Mica heating elements are quite popular in industrial heating systems. Mica is used in strip heaters, plate heaters, and integrated temperature control and monitoring systems designed for industrial applications. Mica has gained significant popularity in industrial heating systems due to its typical properties , and it is an integral part of several high-temperature industrial heating systems. What makes mica a popular heating element? This post discusses the different properties of mica and its significance as a heating element in industrial heating systems.
Properties of Mica
Mica is a natural mineral that occurs in the form of thin sheets. This mineral possesses varying concentrations of potassium, aluminum, iron, magnesium, and water. It is greatly popular in temperature-centric operations due to its high watt density and high temperature capabilities. Mica provides crystal stability in humid locations and offers excellent insulating properties; therefore it is very popular in electronic heating systems.
The thermal properties of mica are not the only reason for its popularity. Its electrical, chemical, and mechanical properties also make this material desirable in industrial applications. The following pointers will help you understand its properties better.
Electrical Properties: Mica offers a wide range of electrical properties such as uniform capacitance, low power loss, high dielectric strength, high electrical resistance, and a low thermal coefficient. These properties allow mica to be stable under electrical exposure, making it suitable for use in electric heating systems.
Chemical Properties: Mica is a stable mineral. It does not react with water, alkalis, acids, oils, etc. Since mica maintains its stability during chemical interactions, it is highly suitable for tactical industrial applications.
Thermal Properties: Mica can resist temperatures up to 1000°C. It offers high thermal stability as it non-flammable, and its low thermal conductivity makes it an excellent thermal insulator.
Mechanical Properties: Mica offers mechanical properties such as high tensile strength, toughness, elasticity, etc. This means that mica can be easily machined or hand-cut while maintaining the flexibility of the material.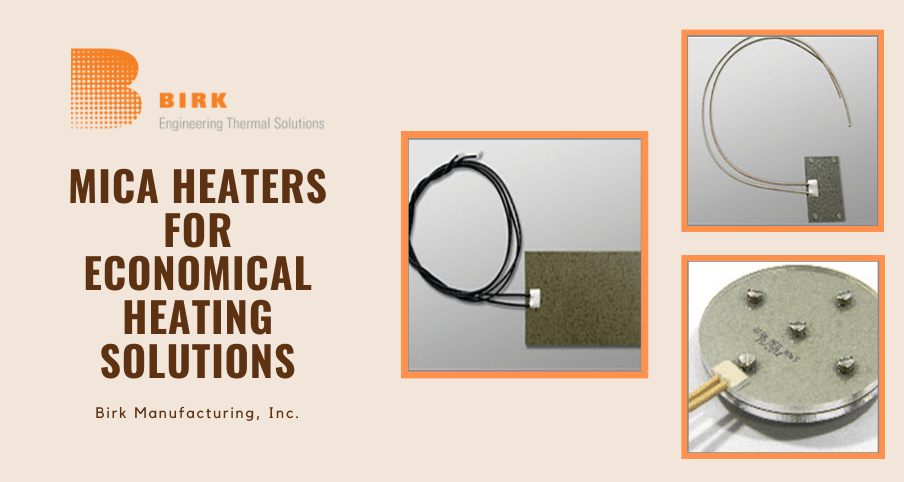 Different Applications of Mica in Thermal and Temperature Control Systems
Mica has a wide scope of applications in different industries that require thermal systems. The following are a few examples.
Mica heaters are used in various types of industries such as chemical detection, semiconductors, commercial and industrial thermal control, and monitoring units. They are also used in various complex thermal industrial systems.
Mica strips or plate-type heaters are also used in temperature control and monitoring units across industries.
Although mica is of great significance and has a wide scope of applications throughout industries, its performance depends on the quality of the mica used and of the manufacturing. These factors impact the effectiveness of mica-based heating systems. This is why mica-based industrial heating systems must be sourced from trusted manufacturers like Birk Manufacturing, Inc. The company offers high-quality mica heaters, plate-type heaters, and strip heaters for various industrial uses. Birk's products are built to comply with ISO9001, ISO13485, and AS9100 standards.